Australia, New Zealand and Africa DX Net
In the spirit of amateur radio since 1970
Current time: 
20m Net: 14.183 MHz, 0515 UTC, daily
15m Net: 21.205 MHz, 0415 UTC, Saturday
List operation, say your call sign, stand by for calls
DXpeditions, special-events, portables, mobiles, QRP
Net runs for about 1 hour, all licensed operators welcome
QSO is brief exchange of call sign and signal report
Please do not spot the Net on clusters or skimmers
Listen from
remote stations
Flux-A-K Indices
Sunspot Number
FCC database
October 27, 1929 QSL of
VK3PA
, Percy, original ANZA DX net control operator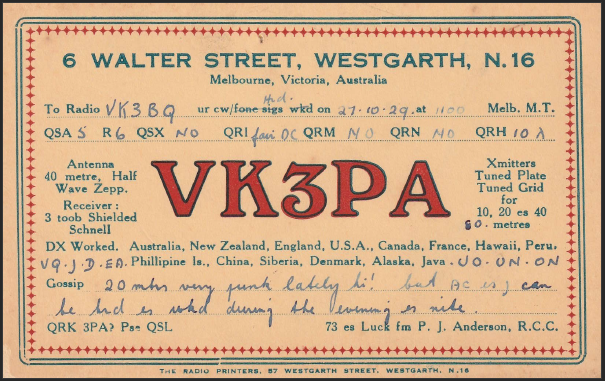 Background image: Sunset over the Indian Ocean From ISS


Kentucky Fried Bananas and Cherry Coke, webmasters
Comments, suggestions, bug reports welcome
©2009-21, ANZA DX Net, all rights reserved
A community service project without pecuniary interest.

On January 10, 2021 the flag counter was removed. Since 2009, this page
had been viewed 38,020 times by 22,335 visitors from 157 countries.